Almost a decade ago, I took my first weekend course to become a kids yoga teacher. I knew right away that this was the path for me, and I decided to jump right into teaching kids yoga wherever I could.
Based on my few trainings I experienced as a Yogi, I thought it would be fun and a perfect fit. I was fortunate enough to find a 
full-time job teaching kids yoga at a nearby public charter school
 within six months.
I was so excited to share with these kids all the yoga and games I had learned through my training and initial experience. 
I was convinced it would help them learn and focus and that they would love it right away
.
All of my training gave me great ideas and advice on how to teach yoga to kids, and what games to play, but 
I had a few big problems…
Nothing I had learned had prepared me to come up with
lesson plans
, content, and class outlines 
I didn't know how to 
manage classroom behaviors
 (which can range from mild unwillingness to dramatic and unsafe aggression) 
I had no idea how to 
keep kids engaged
 with the yoga sequences that I came up with
I had 
no resources for students of color…
 there were almost NO images of kids doing yoga who weren't white. How could I convince them yoga was for them, too, when the kids didn't look like them?
As a yoga and an educator who'd worked with kids for over a decade, I was at a loss to figure out WHY these kiddos weren't engaging and enjoying the yoga that I was teaching!


It is hard to start teaching kids yoga, no matter your background.
You might have the poses and some lesson ideas, but unless you have the sequences and a solid class outline it can be tough to replicate.
Finally, after almost three years of struggling, I stumbled upon a sequence that worked. From there I built up a class outline, I learned more about mindfulness and growth mindset, and I put it all together.


A Yoga Flow, class outlines that work, and some tried and true mindful teaching language prompts is what worked for me and will work for you.
No matter where you are in your teaching yoga career, whether you are part-time, opportunistic with your own kids, or looking for a full-time position, these tools to build Yoga Flow Sequencing for Kids will help you on your way!


Get started teaching, hear how Kids Yoga Flow sequencing works, and have a FULL set of printable kids yoga cards that are ready to take anywhere and fit into any new lesson plan.

Are you ready to level up your kids yoga teaching?
You'll get access to these essential kids Yoga Flow Sequencing resources:
Foundational tips and advice for teaching kids yoga.

Video instructions on 

exactly

 how to teach a Yoga Flow, a specifically curated sequence of yoga poses that you can do with your kids or students every single day.

Videos of how the Yoga Flow works!

Tips for teaching with mindful language
Mini Yoga Flows to add to your sequence
Full-sized printable digital kids Yoga Flow Pose Cards with the most diverse set of kids (40 images in PDF format)


The Kids Yoga Cards for the Yoga Flow were created by me to use with kids or students to do a specific kids yoga sequence called a Yoga Flow. I found an amazing artist who created beautiful images for each of the poses in my standard Yoga Flow.
I wanted images with students of color, in various types of clothing and dress and hairstyle to better reflect the students that I work with every day.
These kids yoga cards include yoga pose images, descriptions, and teaching tips for the exact poses in a perfect Yoga Flow, a specifically curated sequence of yoga poses that you can do with your kids or students every single day.
A Yoga Flow can be used as a warm-up, the main lesson for a class, a morning routine, a brain break, a cool down, or a relaxing routine before bedtime.
The pose cards and images are completely unique to Kumarah Yoga, they are not seen anywhere else!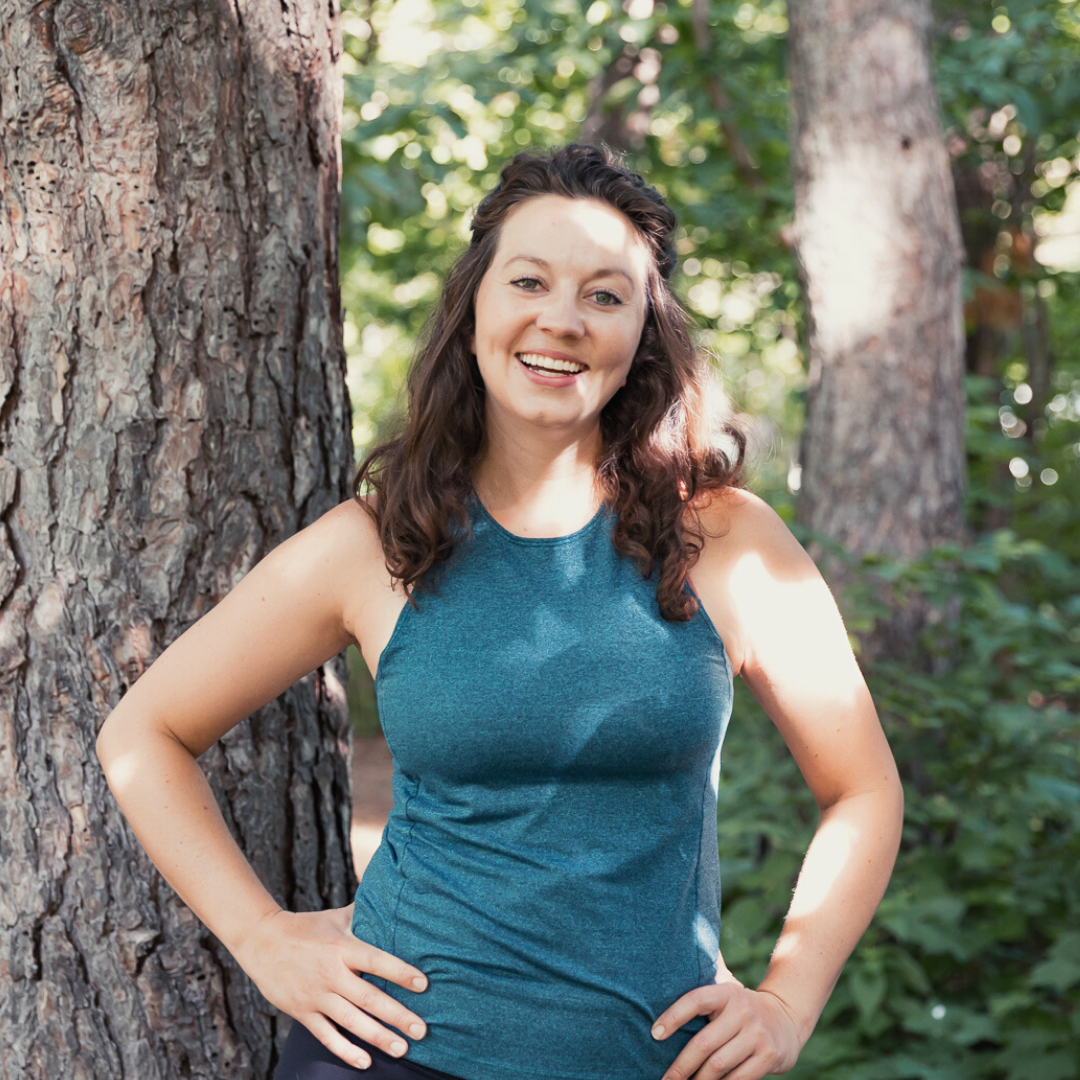 Hi, I'm Maia!
I've been a full time kids yoga teacher in public schools for over 8 years, and educator for over 13.
I can't wait to share my experiences with you and help you set up your kids for success with kids yoga and mindfulness for calm and well managed lives!
I'm also a grown up yoga teacher :)
Here's some of my relevant training:
-RCYT-95 hour via Yoga Ed
-E-RYT-200 from Green Lotus Yoga and Healing Center
-Baptiste Power Yoga Instructor
-Yoga Calm Levels 1-3
-Kidding Around Yoga Online Teacher Training
-Little Lotus Kids Yoga Teacher Training
-Street Yoga: Yoga for Kids from a Trauma Informed Lens
-Superstretch Kids Yoga Teacher Training
-Unstoppable Kids Yoga Teacher Training via the Baptiste Institute

Hear what others have said about Yoga Flow Sequencing for Kids:
You can see the work, love and experience Maia put into these cards. A great resource for parents, teachers, and anyone wanting to share yoga, in a fun positive way, with the children in their lives.
Kristi F.
"I am so glad I found Kumarah Yoga online. I love the yoga flow cards – the drawings are great. They are cute and fun and perfect for kids of all ages. I especially like the diversity represented. I also appreciate the literature-based yoga lessons. I am a former elementary school teacher, and I love using children's picture books in my classes. I've found Kumarah Yoga to be one of the most valuable resources I have for teaching dynamic kids yoga classes!"
Kelly G.
This online resource has everything from how to start teaching yoga to encouraging your kids to be active participants and leaders. Maia has covered all the details including ideas for positive language, healthy body, health brain. This is packed with ideas on how to use the pose cards in a classroom or at home even for a yoga themed birthday party. The clear concise descriptions match each picture. There are hours of fun, imaginative play packed in this Yoga Flow Sequence.
Jackie S.
These cards are great! I teach yoga in my school and the cards help me build a sequence quickly. The illustrations are clear and colorful and inclusive. My kids love them. I live in the Netherlands and use the cards every week.
Eva
The material delivered is very clear, helpful and detailed – thus, a highly valuable resource. What I like about the idea of yoga flows is that children dive into "real Yoga" instead of just playing. Maia has put a lot of effort in preparing these cards and all the additional information – thank you so much and many greetings from Germany :-)!
Claudia
Get started today and level up your kids yoga teaching to help bring the kiddos around you access to the tools they need to stay healthy, be aware of their emotions, and have fun :)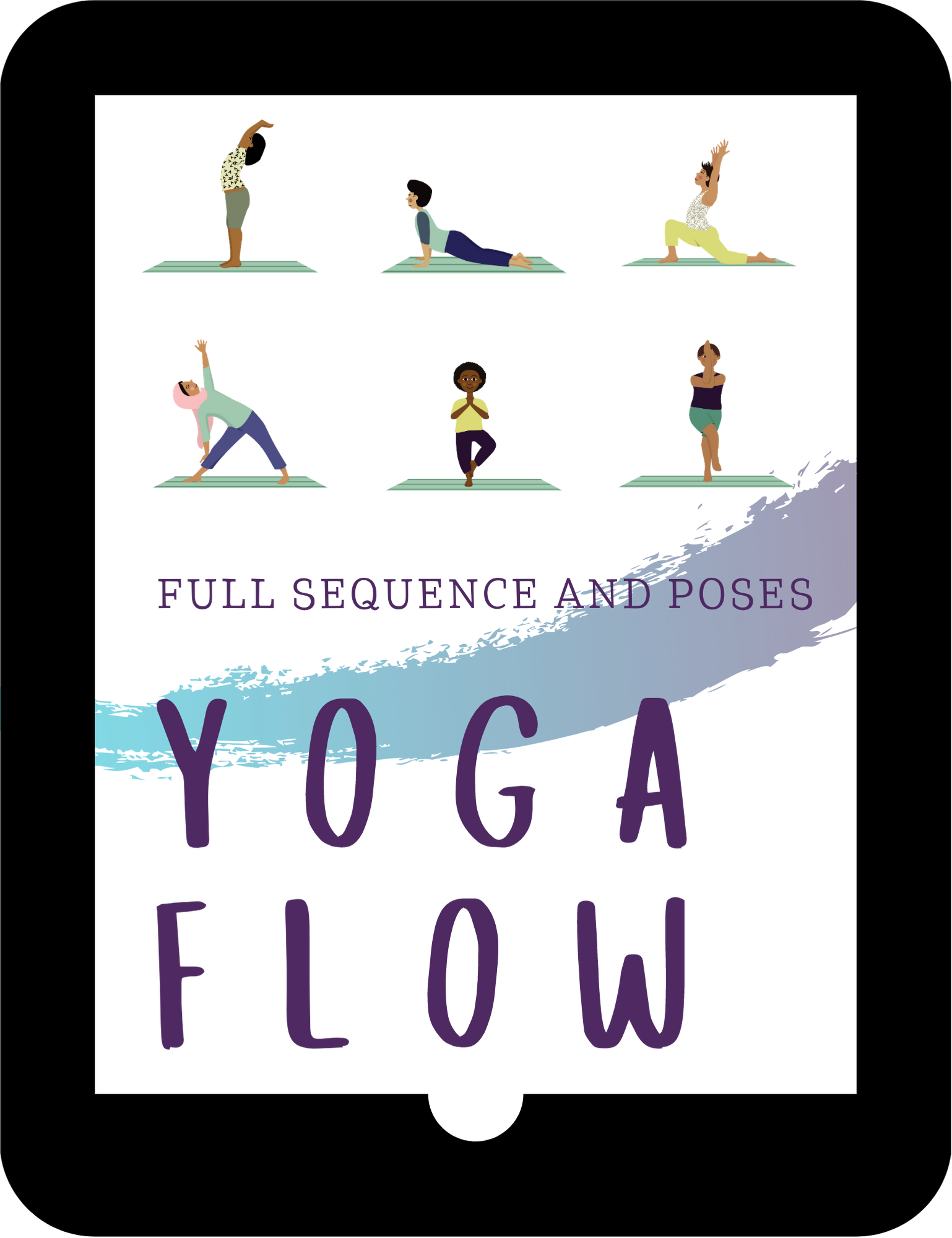 Kids Yoga Flow Pose Cards
Digital set of 30 kids yoga pose cards, beautifully diverse and printable in PDF format for use anywhere! PLUS several mini yoga flow sequences for all ages.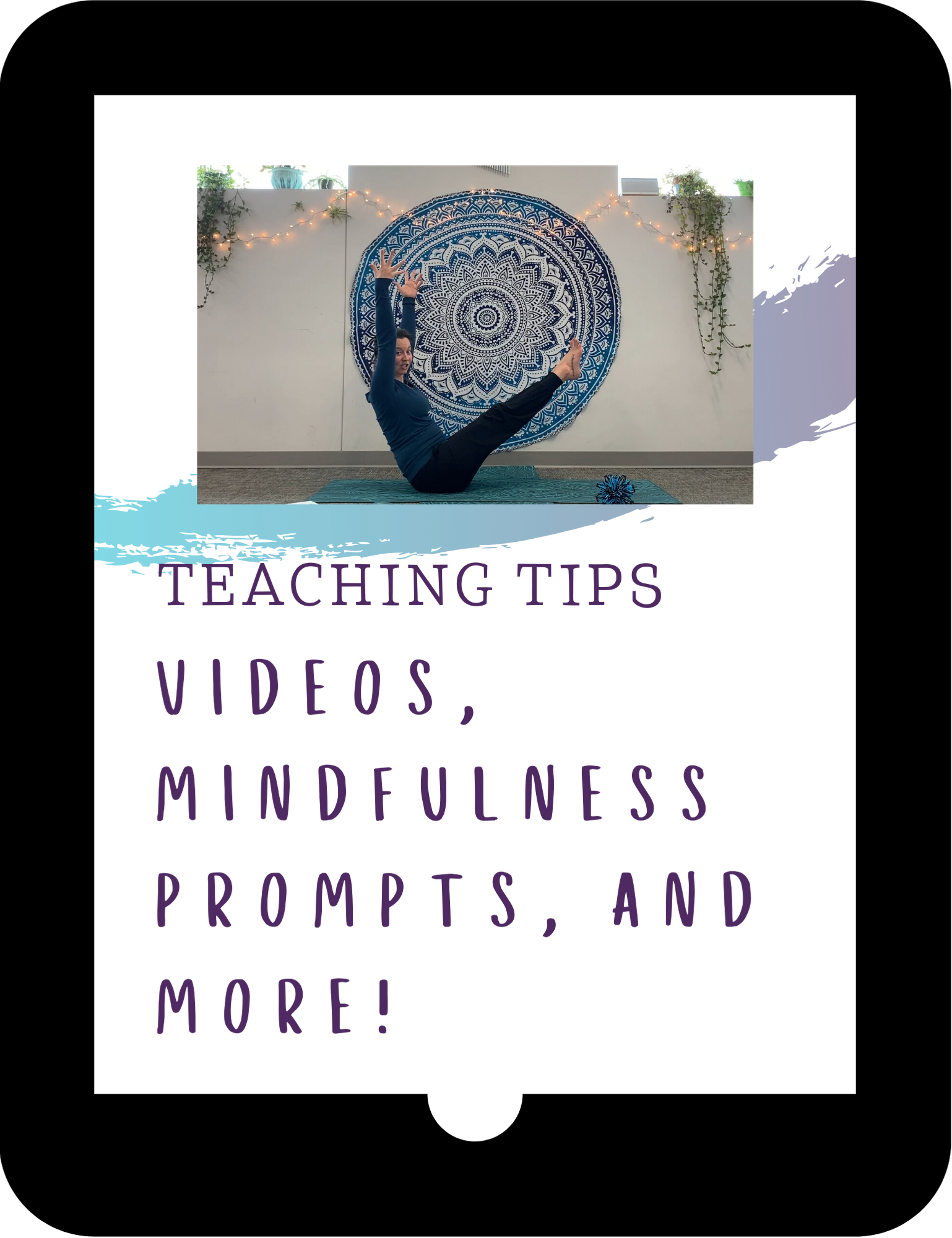 3 Hours of Videos and Resources


Videos of teaching tips, how to tell the story lessons, and tons of printable mindfulness based teaching prompts for giving clear and concise directions.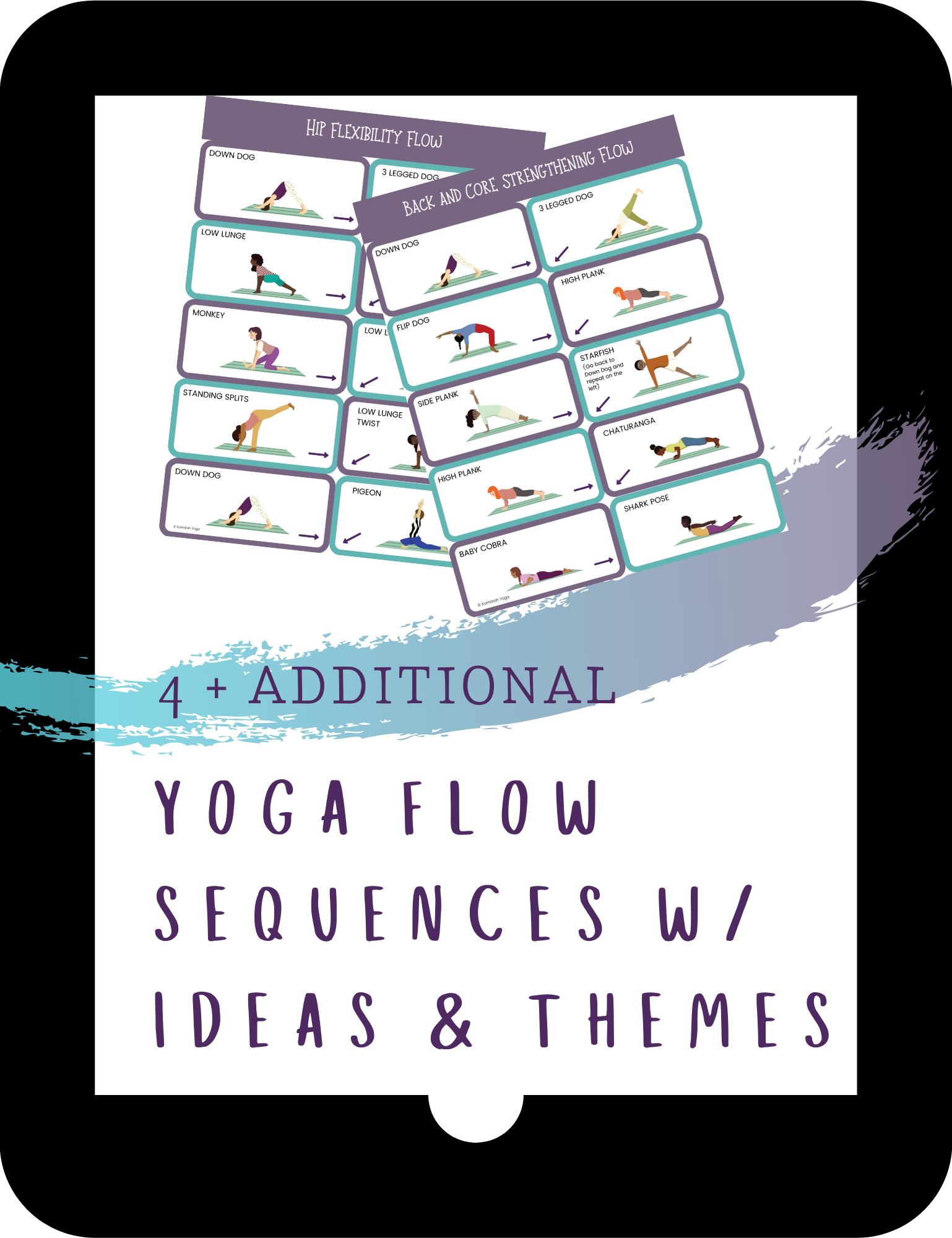 4+ Additional Yoga Flow Sequences
Learn additional ways to adapt the Yoga Flow for various ages, groups, with themes, breathing, and even with music!

But wait...You also get these Three Amazing Bonuses if you join today!


* BONUS Video on how to do a Yoga Flow with breath or music for more advanced students!


*BONUS Planning Template for teaching themed and dynamic classes!


*BONUS Access to the Kumarah Circle Community for unlimited ad-free support from a like-minded community of hundreds of kid's yoga teachers!
All of these resources are valued at $60, the videos that go with them at over $100
You get everything in the bundle TODAY for only $47!